What's in A Name?
What's in a name? Everything, if you want to stay in business and succeed with your enterprise. First, consider that your target audience must be able to know your name, know what products or services are associated with your company—before they can even decide whether they want to do business with you. Consider also that they must be able to remember your name in order to check you out—or to come back and do business with you after satisfying themselves that they do in fact want to do business with you. A name is the first impression and needs to convey its value and connect without relying on a logo or image to influence a perception. A great way to experience this is if you've ever been to an open networking event where you're hearing introductions to 25 companies. It's easy to think… that name sounds too "mom and pop" or to generic or when a name is attached to a single person, the company sounds too small to partner with. If you say LLC at the end, you feel like you just started your business last week. If it's too long and confusing, and needs to be repeated, you missed the mark.
If the same is unique and conjures interesting associations, that may be a great icebreaker. "Mutant Media was my successful 17yr creative agency, but the number of times we were asked about the name or ninja turtles was frustrating at first but changed to an opportunity for clarity and a sell. Our name refers to the way media is constantly changing and adapting, or mutating, so we spun the name into a validation of how we're on the cusp of marketing innovation" says Rich Silivanch, Co-Founder and Creative Director for Gravitude Brand lab and formally Mutant Media. A lot of perceptions arrive to the forefront of who you're talking to at the point you say your name.
So, what makes a name actually work for your business?
Your business name must evoke both a meaning and if possible, a feeling about your business, as well. Let's take an example of how we put this practice into action. An engineering firm specializing in environmental property issues hired us to rename and rebrand. We named them TerraLogix. Why? Because terra means earth. The earth has a story, and the company clarifies that story by conducting an analysis of the land prior to its clients' purchase or building on that land. So, the name refers to the earth or soil having a story that TerraLogix can make sense of.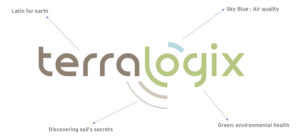 So, what happens when a company gets it wrong? Well, first of all, nothing. If a name is too difficult to search online, too difficult to pronounce, or doesn't stand for anything, the company fades into the woodwork. If the name doesn't reflect the personality of the company, it will fall on deaf ears and blind eyes, too. Business names that sound like people's kids' names stuck together fall flat. They are simply not memorable or meaningful. Consumers should not have to work hard to figure out what a company does. Ideally, your business name (combined with the logo) should tell them within a second what you do.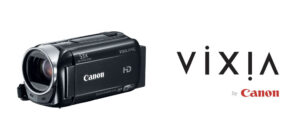 Depending on the audience you're going after, there may also be a more targeted way to connect to your target with your name. In partnership with a larger naming firm, we were brought in to develop a name for CANON's line of prosumer video cameras. Taking inspiration from the first camera, called camera obscura, we drew inspiration from the way the images flip when viewed through the camera. The candles flip as they pass through the box. We saw those candles flip at the fulcrum, sort of like a seesaw and that became the i-x-i. We than came up with a single letter "V" and flipped that again to form a letter "A".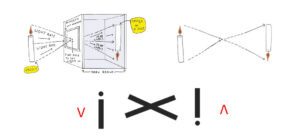 "So the name VIXIA was born with no actual meaning, but sounds simple and has a fabulous sound to it. We especially loved the balance in the word and how it becomes an ambigram" says Rich Silivanch, Creative Director and originator of the name.
So naming can be inspired with a simple meaning or clever sound, but the best names have a story connected to them. Be sure to visit our naming presentation and explore the names we've brought to our clients and their customers.
We'd love to hear your thoughts on your company or product name.